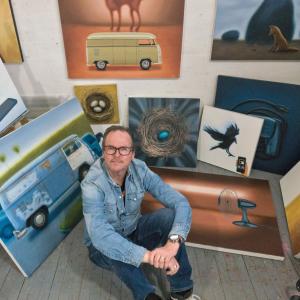 Stephen Perry
Artist member since 2018
Ottawa, On
Stephen Perry's paintings range from intimate to mythic. There is a story going on, but it's not always apparent what it is. You will see different levels at work— social commentary, humour, symbols and dream-like imagery. There are recurring themes-- animals, nature, humanity, technology... and the places and moments where they intersect. The creative approach has a graphic, "art-directed" feel. A variety of brushwork techniques create a "stylized realism" with smooth gradations and a subtle use of light and shade.
Stephen Perry's background includes graphic design, film making and 3D animation. He is, in addition, an award-winning commercial photographer.
---
Which piece of art you've created is your favourite, and why?
One of my favourite pieces of art that I've created is "The Hero's Journey" I like the execution but it also has personal meaning-- probably has meaning for most of us-- summoning up the courage to make "The Big Leap".
In a previous life I was (a) ...
In a previous life I was a monk. The Buddhist monastic tradition still has appeal-- except for the deference to authority, the celibacy and the lack of artistic freedom-- otherwise...
When did you start making art, and why?
I've been doing art since childhood. When you start at a young age you don't really question why - you just do. After working as a commercial photographer for a number of years the urge to do "art for art's sake" resurfaced. Much experimentation in many areas has led me to where I am now with a realist style of execution and a stylized vision of reality-- working in oil and acrylic.
Your favourite spot in Toronto right now
My favourite spot in Toronto is still probably the AGO. The gallery scene in general is great in Toronto.
Describe the person your work appeals to in 3 words
The person who likes my "narrative art" is usually someone who likes a story-- something to interpret or something that resonates internally without necessarily having a conscious explanation.
Upcoming Exhibitions
2019-07-12
Toronto Outdoor Art Fair
Stephen Perry
Select Past Exhibitions
2018
Toronto Outdoor Art Fair, Toronto
TOAF 2018
2018
New Art Festival, Ottawa
NAF 2018
2018
Cube Gallery, Ottawa
Beaux Reves
2018
The Artist Project, Toronto
TAP 2018
2019
New Art Festival, Ottawa
NAF 2019
Accolades
2019
"Best Regional Artist" New Art Festival
Ottawa Art Gallery Award
2018
"Social Commentary Award" TOAF
Short-listed
2017
"Social Commentary Award" TOAF
Short-listed
Press
2018
CBC TV interview
Beaux Reves show
2017
BLOGT0– 'THE THIRTY MOST EXCITING ARTISTS IN TORONTO RIGHT NOW"
#14
SHARE THIS ARTIST